How to transfer programs and files to new SSD drive PC
In this article, we will see how to transfer to new PC that has an SSD drive for Windows and programs, and additional storage for data. The transfer will preserve your programs, settings, documents, pictures, music, movies, favorites, wallpaper and the rest of your stuff, transferring to a Windows 11, Windows 10, Windows 8 or Windows 7.
The goal in this transfer is to perform it in such a way that programs go to the SSD drive, and data goes to the Data drive. This way, you get to have the performance boost of the SSD, while still keeping all of your stuff from the old computer (even though it would not fit into the SSD alone).
The tool we have to use here is Zinstall Migration Kit Pro. It includes a dedicated SSD mode, which is made exactly for this scenario. In that mode, the Kit will automatically assign programs and their settings to the SSD, and the rest – to the data drive. Let's see how the process works.
How to transfer programs and files to a new SSD-equipped PC
Run Zinstall Migration Kit Pro on your current computer (the one you are transferring from).
Note: You can download the Kit here, and its user guide here.
Run the Kit on the new computer as well.

You don't need to do any configurations for the computers to connect – it's automatic
If the computers are already connect to same router, same Internet connection, or same wireless connection, you don't need anything else
If the computers are not connected at all, connect them with a network / Ethernet cable
You can also do the transfer without a network connection: first capture the old computer into a container (it's option 4 in the Migration Kit Pro), store it on a network share or an external hard drive, and then deploy on the target. This last option works even if the machines are not in the same physical location, or if you are doing an in-place switch on the same physical machine.

If you'd like to select which applications and files you want to transfer, press the Advanced menu on the Source selection screen. If you just want to transfer everything, you don't need to go to the Advanced menu.
When you get to Target Selection, you will be shown the SSD Mode screen. Select SSD Mode to utilize it.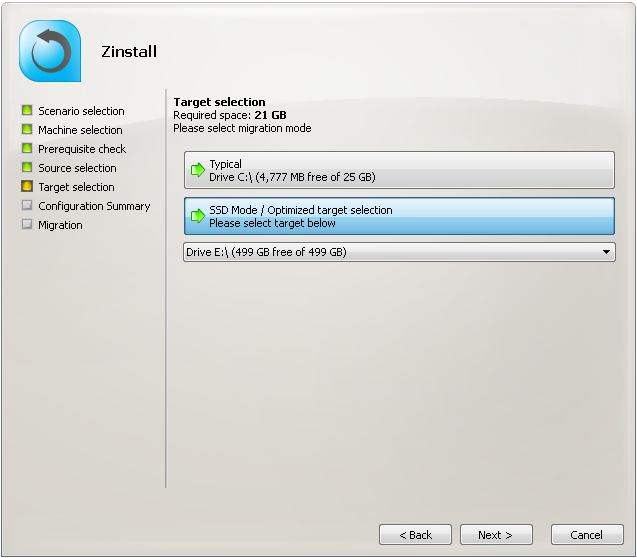 Review the results on the Summary screen, and press "Go" on the new computer to start the transfer.
That's it! Migration Kit Pro will perform the transfer, splitting the transferred stuff between the SSD and the data drive, automatically.
Ready to transfer to your new SSD-based computer?
Video tutorial – how to transfer to an SSD drive