How to backup everything to WD My Cloud: your Windows 11 or Windows 10 programs, settings and all files
In this article, we'll learn how easily configure a fully automatic, always on, backup of your entire Windows 11 or Windows 10 computer to a Western Digital My Cloud drive.
WD My Cloud of course comes with built-in backup capabilities, but they are centered around file backup and require some expertise to set up.
What we want to achieve is an easy, automatic, always-on backup of the entire computer to WD My Cloud. This means backing up Windows 11 or Windows 10 program files, apps, settings, profiles, emails, accounts, passwords, documents, pictures, music – everything you've got.
And, as in any backup solution, the main goals not the backup – the goal is to be able to actually restore your stuff, in case of a disaster or in case of just accidentally deleting an important file.
How to back up your entire computer to WD My Cloud
Download and install Zinstall FullBack (you can get Zinstall FullBack here. It has a free 30 day trial, too.)
Run the Backup and click "Settings…" button.

Click the "Change" button next to the C: drive entry
Type in the following and press Enter:

\\wdmycloud\

Pick one of the folders on your WD Cloud, or create another folder in it you want – this will be your backup location
Click OK, close the Settings window, and press the ON switch in Zinstall FullBack
That's it!
So what happens now? Zinstall FullBack will first make a full backup of your entire Windows 11 or Windows 10. It means every file, every program, every setting you have there – all backed up and protected. It will be safely stored on your WD My Cloud.
After that, it will keep backing up the changes on your every hour. So if you change a file, or install a new program, your backup will be updated accordingly within 60 minutes. This is all done completely automatically. In fact, you probably won't even feel it running. It is very efficient in handling just the changes made, and even protects the hard drive's health, by minimizing the amount of reads and writes to it (this makes the drive live longer!)
Of course, the real reason you have a backup is the restore part. How do you restore a single file that you've misplaced? And how do you restore everything, including program files, if your computer crashes? Read on to find out.
How to restore a file that I've accidentally deleted?
So you were working on an important document, and now it's gone. Fear not – that's exactly why you have set up an automatic backup of your entire Windows 11 or Windows 10! Here is what you do: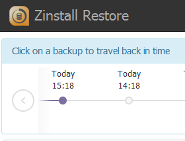 Open your Zinstall FullBack's Restore wizard.
If you remember the file's name, just type it into the search box. It will appear below.
If you don't remember what the file was called, but do remember where it was, you can browse your backup files, and find your file like that.
Once you have the file, just hit restore – and it will appear exactly where it was, up to date!
That's it – your file is back and unharmed.
My computer crashed. How do I restore everything from the backup, onto another computer?
This is something you can only do if you have used Zinstall FullBack. It can actually restore all the stuff from your backed up computer (programs, settings, files, emails, accounts, password, favorites, documents, pictures, music, etc.) onto a completely different computer and completely different Windows. Even if you've backed up a Windows 7 32bit Dell, and your replacement PC is a Windows 11 64bit HP, Zinstall will still restore everything you've got.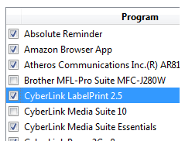 To do that, connect your backup storage to the new computer, and run Zinstall Rescue Kit on the new PC. When prompted, tell it to migrate from the backup container on the backup, and let it complete the restore. When finished, just restart the computer, and you'll see all the programs, settings and files from your crashed computer.
What about ransomware / cryptovirus / encryption malware? Will that affect my backup?
Recently, a new type of virus has surfaced – ransomware. It encrypts all files on a computer, and demands money to give them back. A unique property of ransomware viruses is that they attack backups as well. They will seek out and encrypt Dropbox, OneDrive, USB hardware etc.
To protect your backup from ransomware attacks, Zinstall FullBack uses a unique SecureZone technology, which acts as total block from ransomware attacks. It simply does not allow any application – which is not Zinstall FullBack itself – to change the backup files. So when the ransomware virus attempts to encrypt them, it will fail to do so (although it will think that it hasn't).
This means that in the event of a ransomware attack, your Zinstall FullBack will keep your files, settings and programs safely protected.
All you need to do is simply reset the infected computer to factory settings (in Windows 11 and Windows 10, it is done with just a couple of clicks in using the Reset function), and restore your stuff back from Zinstall FullBack.
Summary
WD My Cloud is one of the best personal storage solutions on the market. By using Zinstall FullBack and My Cloud together, you get a complete, automatic, always on backup of your entire Windows 11 or Windows 10 PC, including all programs, settings and files.
It is extremely easy to set up, and since WD My Cloud is wireless, you do not have to connect any equipment to the computer itself, or even remember that you have a backup.
But you will definitely remember you have it when something happens to your files, and will thank yourself for taking the right precautions well in advance, especially when you restore all of your programs, settings, accounts, emails, documents and files – as if nothing happened.
Ready to supercharge your WD My Cloud? Experience the full potential of your Western Digital My Cloud by adding complete backup to it.
Video: The easiest way to backup your whole computer, automatically and efficiently